A Pediatric Surgeon is a super specialist who operates babies from the age of day 1 of life to children upto 18 years of age. Any surgical problem in babies and children is taken care of by a Pediatric Surgeon whether it involves the chest (lungs / food pipe ) or the abdomen (stomach / intestine / liver / kidneys ) or the limbs (hand / legs).
So is it all about just treating babies. I took up pediatric surgery as I love kids and treating them and seeing them get back to their usual playful mood is one of the best things one can ask for and and getting them well to live for another 80 years is just the icing on the cake.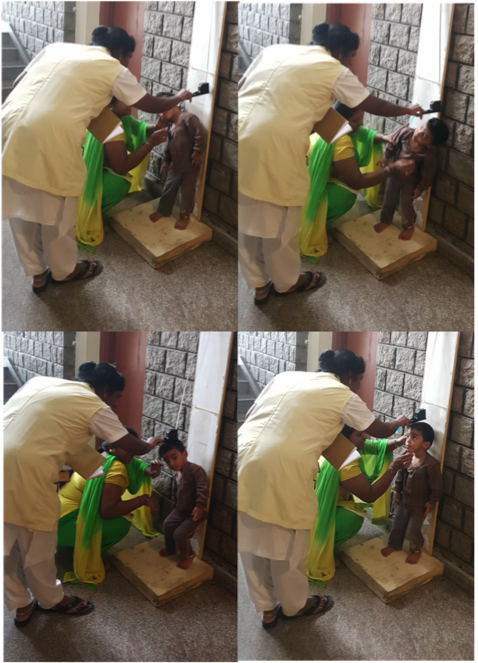 Pediatric surgery is not just any super-speciality, it is an Art. It is not the just doing surgeries on miniature adults. Kids are different in each and every aspect. Kids will be kids whether they are at home or in the hospital. Here is a sister who is having a great trouble just trying to get the child stand staright to measure his height.
And being a pediatric surgeon one must learn to adapt to and to come down to the level of kids to keep them happy in the hospital environment. We learn to modify a lot of our protocols because "Kids will be Kids".
In our OPD (Out Patient Clinics) we have cartoons on the walls and play section to make the kids feel at home. We modifiy the way we see and treat kids even after the operations as they will not listen to logic, all they want is comfort of the mother and some playtime. Here we have kids who even after major operations are very comfortable, not just because of the pain killers and other medications that are given to them but because they are kept busy with their favourite things even in the hospital.
So friends, Pediatric Surgery is one of the best branches where one get the pleasure of being with kids and treat them. And a little bit of changes in the way we treat these precious babies in the OPD and wards will make a pleasant experience even for them.
Stay Happy, Stay Healthy.
Pediatric Surgeon | kids | Operation | Congenital anomalies | super – speciality